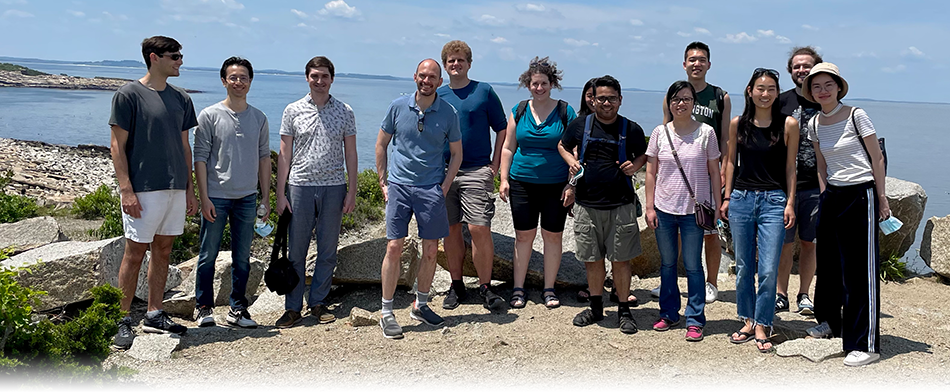 Peter Kharchenko (PI)

Gilbert S. Omenn Associate Professor of Biomedical Informatics |

DBMI

|

Broad (on leave AY 2022-2023)

phone: 617-432-7377
e-mail: peter.kharchenko@post.harvard.edu
office: Countway room 312, 10 Shattuck St., Boston, MA 02115

Peter received a PhD in Biophysics at Harvard University, studying gene regulation and metabolic networks under the advisement of George Church. He then completed a four-year postdoctoral fellowship in computational biology and genomics in the laboratory of Peter Park.

Ruslan Soldatov

e-mail:ruslan_soldatov@hms.harvard.edu

Ruslan is an instructor in the lab, coming to us from Moscow State University and the Institute for Information Transmission Problems, where he completed his PhD studying the biophysics of RNA molecules. Ruslan is studying cell dynamics and fate decisions in various tissues using single-cell measurements. He recently started his own lab at MSKCC.

Viktor Petukhov

e-mail:viktor.s.petuhov@yandex.ru

Viktor started working with the lab as part of his MS studies at St. Petersbrug Polytechnic University, taking advantage of his programming and applied math background to improve demultiplexing of single-cell sequence libraries. He has now joined the lab half-time, in collaboration with his PhD lab at the University of Copenhagen.

Evan Biederstedt

e-mail:evan_biederstedt@hms.harvard.edu

Evan is a computational biologist with a background in cancer genomics. He is now spearheading the development of the Cell Annotation Platform (CAP), infrastructure designed to improve our ability to interpret cellular state by facilitating the accumulation, sharing and analysis of relevant metadata and molecular signatures. His GitHub profile can be found here.

Teng Gao

e-mail:tgao@g.harvard.edu

Teng is a PhD student in the Bioinformatics and Integrative Genomics (BIG) program. Previously, he was a computational biologist at Memorial Sloan Kettering Cancer Center, where he studied pre-leukemic evolution of hematopoietic stem cells. Teng is now developing computational methods for single-cell transcriptomics to study cancer, aging, and beyond.

Rachelly Normand

e-mail:rnormand@mgh.harvard.edu

Rachelly is a post-doctoral associate in the lab, co-mentored with Dr. Chloé Villani from Massachusetts General Hospital, Harvard Medical School and the Broad Institute. Rachelly leads a few single cell atlas projects including thyroid gland atlas, blood cell atlas and COVID cell atlas of blood and tissues. Rachelly is interested in integrating different data modalities at a single cell level in health and disease to better understand disease progression and mechanisms.

Shenglin Mei

e-mail:shenglin_mei@hms.harvard.edu

Shenglin is a post-doctoral associate in the lab. He received his PhD in Bioinformatics from Tongji University in Shanghai, China. Shenglin is working on several cancer-related projects in the lab based on the integration of multimodal single cell data, focusing on tumor microenvironment changes and cell-cell interactions during tumor progression and metastasis.

Jonathan Mitchel

e-mail:mitchel@mit.edu

Jonathan is currently a PhD student in the lab and is in the Harvard-MIT Health Sciences and Technology program. He received his undergraduate degree in biomedical engineering from Georgia Tech in 2019. In the lab, Jonathan is interested in developing and applying tools to study how tissue-level processes emerge from the coordination of cell states in healthy and disease individuals.

---

Former lab members

Li Jiang

e-mail:li_jiang@hms.harvard.edu

Li joined the lab as a postdoctoral fellow after earning a PhD in Biochemistry with Dan Bolon at UMass Medical School. Li was working on development of new microfluidic and molecular techniques for more detailed examination of cell states.

Jimin Guo

e-mail:Jimin_Guo@hms.harvard.edu

During his PhD work at McGill University, Jimin studied contribution of signalling mechanisms to cancer progression. Jimin was a joint postdoctoral fellow between our lab and the laboratory of David Weitz at SEAS. He was pursuing application of droplet microfluidics to high-throughput single-cell transcriptional other genomic assays.

Daria Nikolaeva

e-mail:daria_nikolaeva@hms.harvard.edu

Daria is an MS student at Moscow State University, who has been collaborating with our lab and the group of Catherine Wu on the single-cell analysis of follicular lymphoma. Visiting us for the summer, as part of a Zimin Foundation fellowship program.

Nicola Fattorelli

e-mail:nicola.fattorelli@studenti.unitn.it

Nicola is a Neurobiology Master Student at the University of Trento, interested in neuroinflammatory mechanisms in neurodegeneration and single-cell transcriptomics. He joined the lab as a Summer Fellow of the Armenise-Harvard program, working on single-cell trajectory reconstruction.

Jean Fan

e-mail:jeanfan@fas.harvard.edu

Jean Fan was graduate student at the BIG program at the CBMI. Jean earned her undergraduate degrees in biomedical engreering, applied mathematics and statistics from the Johns Hopkins University. She is working on new ways of interpreting transcriptional and genetic heterogeneity in single-cell populations. Jean is now an Assistant Professor in the Department of Biomedical Engineering at Johns Hopkins University.

Joe Herman

e-mail:herman@HMS.HARVARD.EDU

Joe received his PhD in Statistics from University of Oxford studying probabilistic models of sequence evolution. As a postdoctoral fellow, Joe was working on development of novel statistical approaches for analysis of single-cell transcriptome data, includng spatially-resolved transcriptome measurements.

Joe Riggs

e-mail: Marion_Riggs@hms.harvard.edu

Following his PhD work on the stem cell biology, Joe joined the lab to pursue epigenetic analysis of neurophsychiatric disorders as part of the NIH CEGS initiative. Joe was applying modern epigenetic assays, such as ATAC-seq to study patient-derived cells.

Xin Wang

Xin received his PhD from the University of Cambridge (Florian Markowetz group), and as a postdoctoral fellow worked on cancer genomics, including integrative analysis of midline carcinoma, as well as development of novel ChIP-seq analysis methods. Xin has moved on to start his own lab as an Assistant Professor at the City University of Hong Kong

Katherine Lachance

e-mail:katherinelachance@g.harvard.edu

Katie was a talented undergrand from Darthmouth who spent the summer in the lab comparing different approaches for representing and visualizing single-cell transcritpmic data. Katie is now a graduate student in the BIG PhD program.

Tibor Pakozdi

e-mail:Tibor_Pakozdi@hms.harvard.edu

Tibor conducted his PhD work at EMBL Heidelberg in Eileen Furlong's lab, studying developmental networks and transcriptional regulation in fly and other organisms. Tibor is now focusing on the analysis of epigenetic aberrations in human cancers.

Luca Petiti

e-mail:Luca_Petiti@hms.harvard.edu

A visiting gratudate student from University of Milan interested in genomics. Luca has worked on large-scale comparative epigenetic analysis, and is currently finishing up his PhD.

James Xue

e-mail: jx2176@columbia.edu

James is a Computer Science undergraduate at Columbia University, with a strong interest in bioinformatics. His project in the lab involved setting up a flexible experiment management and analysis system for the mass spectroscopy analysis of chromatin complexes.

Sizun Jiang

e-mail: sjiang@fas.harvard.edu

Sizun is a graduate student with Harvard Virology program, studying epigenetic and regulatory effects of the Epstein-Barr virus transformation of B cells into tumors through both wet lab and computational approaches.

George Linderman

e-mail: linderman@case.edu

George is joining us for the summer from Case Western Reserve University. He is working on a new approach to analysis of short-read sequencing data originating from highly-repetitive regions.

Andrew Ivanov

e-mail: andreyivanov88@gmail.com

Andrew is a Boston University undergraduate student (majoring in Biomedical Engineering), who is joining us for the summer to conduct statistical analysis of the relationships between local mutation rates and epigenetic context.